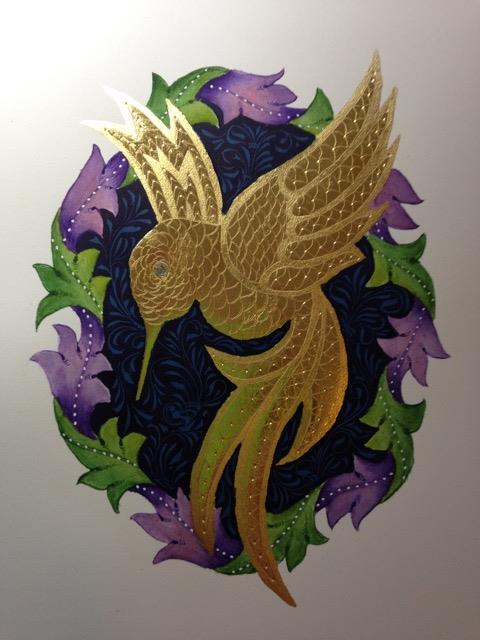 Fall 2017 Workshops OCTOBER 19-22, 2017

Holiday Inn 600 WildFlower Dr. Wilkes, Barre PA 18702
GILDING WORKSHOP
Teacher: Dan Mooney
Playing with 24K gold.. doesn't get any better than this.
"For beginings as well as advanced!"
This workshop will focus on some fun, hands-on small projects and one lavish finished piece to get you familiar with the joy of using gold leaf. You will have no more fear or uncertainties of how to use the gold leaf effectively.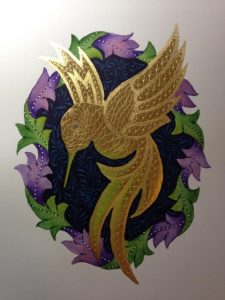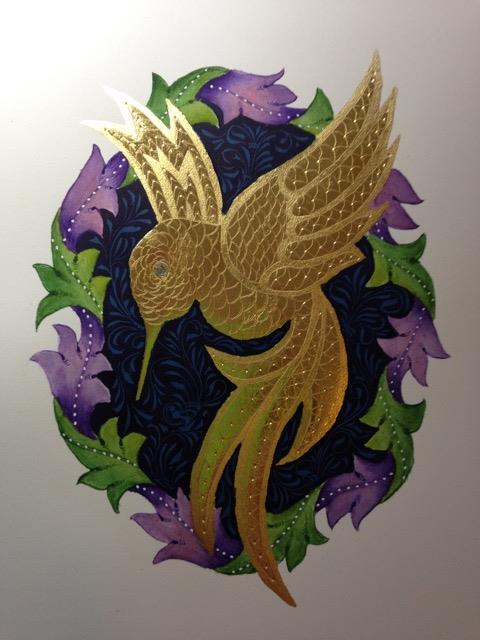 You will walk away from this workshop with confidence and fool proof tips under your belt to always be ready to add a sparkle to your work. You will have a blast creating a finished piece learning techniques of flat gilding mixed with raised gilding. After you've applied the gold leaf, you will learn to tool the gold to enhance it. After the gold is applied, you will learn some basic watercolor techniques and tips to use on the finished piece you will be creating. You will also observe Dan demonstrate the technique of using hand made gesso as a base for raised gilding, polishing the gesso and then polishing the 24k gold leaf to achieve a perfect finish.
Dan has been playing with pens and Gold leaf for over 40 years and had a 2 month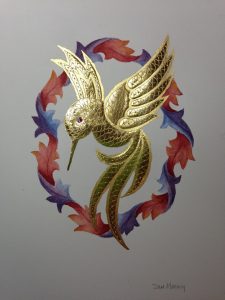 long one man show at the Boston World Trade Center, Fidelity Art Space. Dan was also commissioned by the Boston Tea Party Museum for a custom designed 1772 map of Boston loaded with Gold. Dan cr
eated a collection of re-created antique maps of Boston, Cape Cod and the Islands in full color and also full
of 24K gold that are currently on exhibit in the Chart Room of the Boston Harbor Distillery. Dan is also a calligrapher and letter artist for the Gilded Age Greetings with Rosemary Buczek.
Material Fee: $20.00
---
DUMMY BOARDS  Teacher: Nancy Toombs    Choose between a Pig or a Cat Dummy Board
Dummy boards are from the 18th century New England. the "Pig Feeding" original is in the Victoria and Albert Museum and is privately owned. The cat measures 15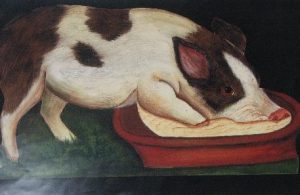 inches high.
I will provide the primed boards, paints and patterns as well as a brief history of dummy boards, as well as some brushes.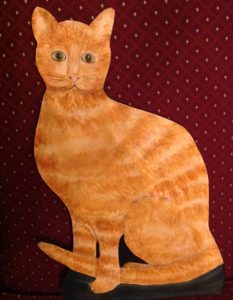 Material Fee: $50.00
Class members need to bring their own painting supplies.
---
PRIMITIVE PORTRAIT  Teacher: Linda Brubaker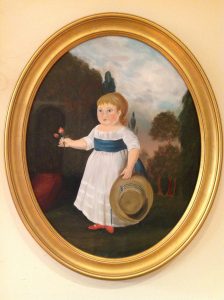 MARY H MAUD
I am looking forward to teaching and know you will enjoy painting this sweet little girl named Mary H Maud, who was a resident of Lancaster County PA. She is holding some rose buds in one hand and a large hat in the other while standing on the edge of a garden with a path leading to a rose arbor and into the woods beyond. The original from which this was copied was owned by Wendell and Margery Shiffer of Brownstown, PA and was painted by an unknown artist in the 1830's. There is an inscription on the back of the original which will be given to you. We will have fun painting "Mary" on her oval canvas. There will be a $25.00 material fee which is for the primed canvas, all color photos, paint chart and full sized drawing.
---
THE ART OF THE SILHOUETTE FEATURING GOLD ACCENTS TEACHER: Alexandra Perrot

This class will show you how to duplicate the look of a cut silhouette using a reverse painting method. In addition you will learn how to duplicate the look of gold over the black creating the effect of "bronzing" to enhance your silhouette.
Material Fee: $25.00
---
PAPER CUT ROTATING CHRISTMAS TREE Teacher: Linda Sheldon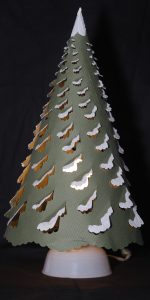 In this workshop, we will create a glittering cut paper Christmas tree which slowly rotates from the air movement generated by a 25 watt bulb in the base. Your kit will include everything you need to complete the 18″ tree, which is a replica of a mid-century Christmas decoration. All you need to bring is your favorite cutting tool.
Material Fee: $35.00
---
FREEHAND BRONZE
Farm boy feeding the donkey
Teacher: Lois Tucker
The class project will be adapted from a George Morland scenic design and worked on the top of a box. You will grain the sides of the box, and there may be enough time for you to line the inside of the box with paper, as well. The lab fee includes the box (fully prepared for you to begin working on), color copy of design, copies of step-by-step instructions, copies of the templates to be used in working the pattern, and (2) filbert brushes #2. Students should have some bronzing experience.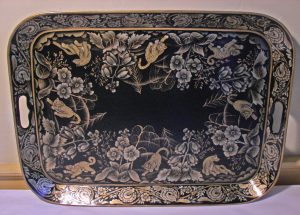 Lab fee: $40.00 Supply list will be sent upon confirmation.
---
THE UFO CLASS TEACHER: Anne Dimock
This class is for EVERYONE!!!! Maybe we should have a contest to see who has the most unfinished HSEAD projects stashed away that you're not quite sure how to finish or lost the pattern. Come and bring a box full and we'll see how many we can conquer. I'm prepared to help with most techniques, but not VFP. If in fact you have lost a pattern, send me a picture of what you do have, and maybe I can come up with the pattern for you. The hardest part of this class is seeing another piece we just HAVE TO DO!! It is a never ending process, but oh, what fun!! There is no class fee for this class, but I will have some supplies with me, and if you need something special, let me know. Can't wait to see what shows up!
---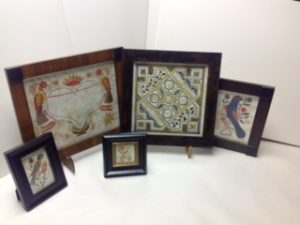 FRAKTUR – (Love-Knot)Teacher: Sandra Strong
Frakturs (Ink & Watercolor on Laid Paper) – Sandra Strong
Frakturs are associated with German immigrants who settled in Pennsylvania,
The Shenandoah Valley, VA & West Virginia, Ohio and the Carolina's. The
Decorated papers were House Blessings, Marriage & Birth Records, Valentines,
Love-Knots or Labyrinths, and Awards of Merit.
In this class, students will complete a Labyrinth (Love-Knot) fraktur, adapted
from an original, on laid paper and will faux grain a 10 x 10 frame.
Watercolor paint will be used in this class, clean-up is so easy!
Material Fee: $40.00
Includes laid paper, wood frame and glaze medium & paints
for faux graining, a color photo, tracing, typed instructions
A supply list will be sent with class confirmation.