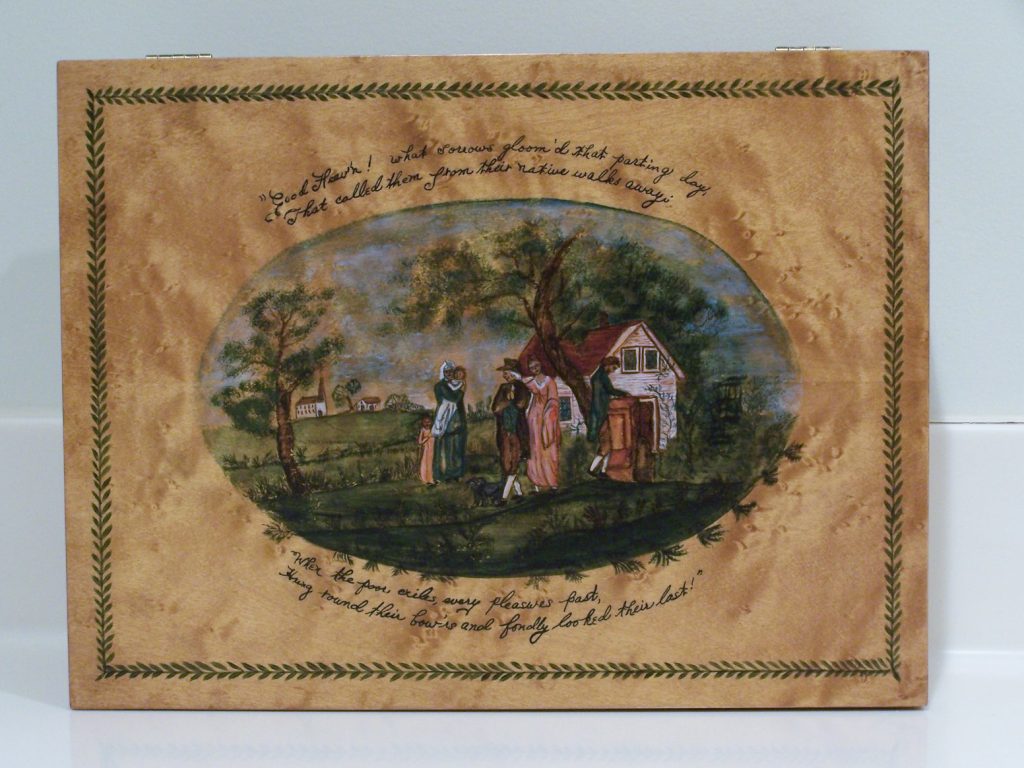 Historical Society of Early American Decoration Fall Workshops-September 20- 23, 2018 Holiday Inn, Rutland, VT
Penwork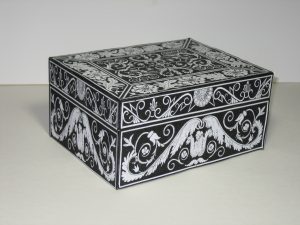 Teacher: Nancy Corcoran
This year's project is a copy of an original neoclassical design from a tea caddy owned by Shirley Baer.  The above photo represents the design which will be done on a natural background as was the original.
This class is designed for anyone interested in the many aspects of penwork.  There will be techniques for the novice as well as those who wish to improve their penwork skills.  We will cover the basics such as how to hold the pen, outlining the design, filling in the background and detail, and scratching out detail and making corrections.  Preparation of the surface and the base coats for inking, clean up and varnishing will be discussed and demonstrated.  A small amount of home work will be required before class.
The project is not difficult but it is time consuming.  In order to achieve the quality of high craftsmanship, the box cannot be completed in the time limits of the three day workshop.  However, our goal will be to complete the top and several sides.  You will be able to leave the workshop with the necessary skills and knowledge to easily complete the rest of the box at home.
Lab fee $45: Includes photos of the original, a prepared box, pattern and miscellaneous supplies.  A supply list will be sent with your confirmation.
---
Fall Workshop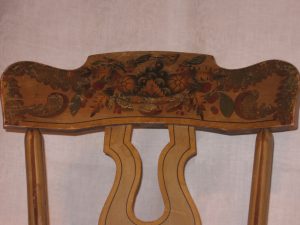 Instructor: Linda Brubaker 
Painted Chairs
Now is your chance to paint  that chair you have been keeping in your attic waiting to be decorated some day.  Participants will find the Painted Chair Workshop to be challenging, but rewarding and fun.  The keys to success will be in the pre-workshop planning and preparation. There are lots of chair patterns in our Pattern Lending Library to choose from for this class. Make your choice and order it from the HSEAD office so they can bring the pattern to you at the Spring Conference in Williamsburg, VA. If you have any questions regarding your pattern, just contact me and I will do my best to assist you.
You will need to bring a chair that has been base painted, varnished and sanded. Bring the pattern, cut stencils, fine bronzing powers, paints and brushes. Please bring an odorless solvent such as Turpenoid made by Weber Paint Co.  Again, contact me if you have any questions or concerns.
I look forward to painting together.
Lab Fee: $10.00
---
Country Painting & Stenciling
Teacher: Anne Dimock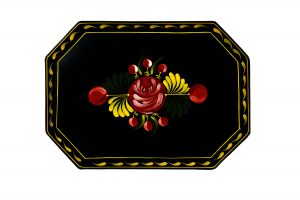 Applicants and Others wanting a Refresher
This class will cover the basics of Country Tin and Stenciling.  I am interested in helping applicants with their trays in this class.  You will need to bring your trays and painting supplies.  If you need supplies, I will have some for sale.  Let me know what you need so I am sure to have it.
ATTENTION UFO STUDENTS – If there are spaces open in this class, I would welcome you to attend!
I will be in touch with all who plan to attend to discuss what you plan for the weekend.
---
"Women's Painted Furniture" Teacher: Betsy Krueger Salm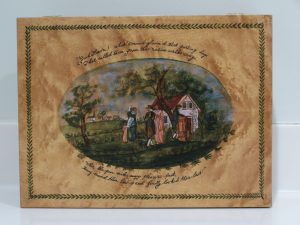 Advanced Class
This class is for the individual who has had experience and completed the beginners class in Women's Painted Furniture. During the class you will learn new techniques and improve your existing skills. 
There are three patterns that are acceptable for judging. You will need to choose your pattern, order the box and have it sanded for painting before coming to the fall workshop.
There will be three pieces to choose from. Examples will be shown at the Spring Exhibition, along with the information about where to purchase your box. 
"Birds Nest" sewing box is made of poplar wood with a lock. Inside the box the bottom is lined with paper and has three fitted and curved top dividers.
"Departing Couple" is a sewing work box made of Birdseye maple with a front lock. Some of the motifs are surrounded with poetry and the inside is lined with paper.
Small octagonal box made of poplar with ball feet. The inside is lined with paper. 
Lab Fee: $30.00
---
"Women's Painted Furniture, CA 1790-1830"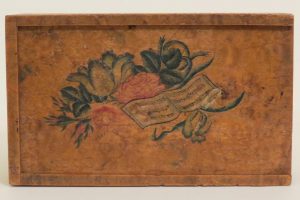 Teacher: Eve Marschark- Beginners Class 
How exciting to be able to share this technique with you!  We will be decorating a  "sewing" or "work" box and given three antique original patterns from which to choose.  
The poplar sewing box measures 8"L by 6" W by 2"H and has four small and one long compartment inside.  
This class is designed for those who have had no previous experience with painting on naturally figured wood over a lacquered finish.  We will be using either casein, milk-based paints or acrylic paints, your choice.   
This class will prepare you for more challenging painting-on-wood projects and help you to become acquainted with the materials while producing a delightful finished piece to be admired.
Lab Fee: $30.00
---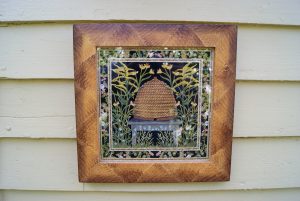 Scherenschnitte & Graining
Teachers: Claudia & Perry Hopf
Scherenschnitte artist Claudia Hopf became interested in the craft when she was in Pennsylvania where  her husband Carroll, was director of the Pennsylvania Farm Museum at Landis Valley. Although she had been interested in many crafts and processes, she became so intrigued with a scherenschnitte birth certificate that came to the museum, that she learned the skill and has devoted herself full time to the art since 1967.
A graduate of the University of Cincinnati with a B.S. in design, with post graduate work at the Art Academy of Cincinnati and Miami University of Oxford, Ohio, Claudia has published eight books on scherenschnitte, five of them pattern books. Her work has been exhibited in galleries and shows from the east coast to California. Her work is represented in collections in France, Germany, Switzerland, Africa, England, Australia, Canada and the Library of Congress.
The class will teach the art of scherenschnitte. Students will start with simple designs and then create their own. The final piece will be framed in the passe partout method.     Lab Fee: $20.00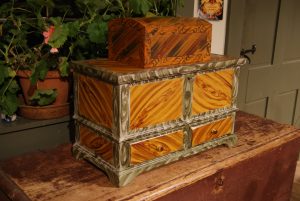 Perry was taught graining techniques by his father Carroll Hopf. He has practiced these graining  methods for at least 25 years. He is partner with his mother Claudia Hopf in a family craft business and also pursues custom graining of furniture and architectural woodwork.
He also reproduces 18th century picture framing based on English and American styles (www.hopfantiqueframing.com).
This class will teach the art of vinegar or distemper graining. It was widely practiced in 19th century America as an inexpensive alternative to graining in oil. From picture frames to interior woodwork, paint graining offered color and warmth to interior settings by simulating exotic woods or displaying exuberant design in paint.
Lab Fee: $35.00
---
Marbling & Tortoiseshell Graining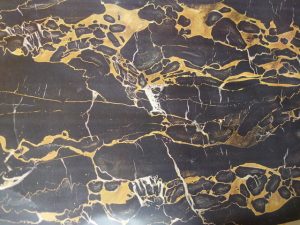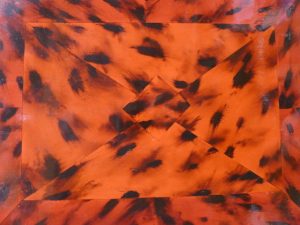 Teacher: Luke Randall 
This class will focus of learning how to paint a marbled effect and a tortoise shell effect.  We will use traditional oil based mediums to create effects with great depth.  I will provide sample boards with different background colors upon which we will work up the finished effects.  I will also be providing boards that are treated with three coats of varnish upon which we will practice making a "guitar" type polished finish.  This process can be used as a finished effect for many different applications, including musical instruments, and is complementary as a finish for faux tortoise and marble.  Because of  the limited time that we have to undertake these projects we will not be able to bring our marble and tortoise effects up to this final finishing stages but we will undertake the process on plain varnished surfaces.  We will attempt to create two types of marble and two types of tortoise shell. Each student will receive five prepared sample boards upon which we will work up our faux finishes.  We will work up examples of a "black and gold" marble and a "sienna" marble.  We will also work on a regular tortoise effect as well as a fantasy tortoise effect.
Lab Fee: $45.00
---
Modern Storybook Script
Teacher: Kathy Milici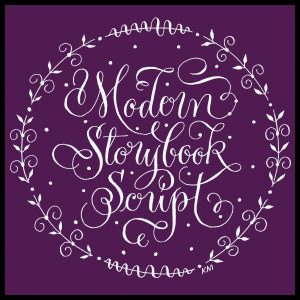 Modern Storybook Script is a charming, casual, easy and contemporary script that gives a fresh, modern twist to the traditional alphabet. It was designed by Kathy Milici to be playful and fun, while deepening our understanding of letter forms themselves. You will see letters in a whole new way!
On Day 1, you'll learn some of the tools of calligraphy and how to use them. Then you'll learn a series of simple strokes that form this whimsical yet elegant alphabet; first lower case letters, then upper case capitals. We'll also examine alternate shapes, numbers and punctuation. Strokes into letters, letters to words, words to sentences…and voila! You have a brand new, useful and versatile alphabet style that is so easy to make uniquely your own!
On Day 2, we will first explore letter connectors, tricky ligature combinations, writing words, and building words into phrases and sentences. Then we will explore the types of layouts, the hierarchy of words, and the creation of your own successful layout using the elements of composition. Using a short quote (provided) will help you to better understand your goal. We will also discuss how to choose the proper approach for the meaning of the words you choose to write, and examine successful design examples to help train your eye.
---
Rug Hooking: 
                                   Teacher: Nancy Jewett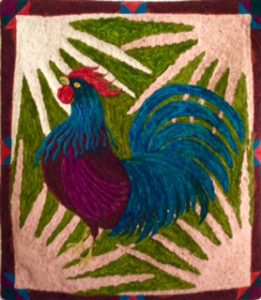 In this class, Nancy will guide you in the art of traditional rug hooking from the basic techniques to the more advanced including tips on color planning, and various style of rug hooking, and finishing suggestions. Nancy gives one on one guidance to her students and will provide numerous visual aids and a bounty of her own rugs with a discussion that showcases different techniques you'll learn. Each student will have a choice of patterns to choose from ranging twenty-five dollars to forty-five dollars plus necessary wool depending on rug size.