Join us for the 74th Annual HSEAD Conference and Exhibition April 29 through May 1, 2022.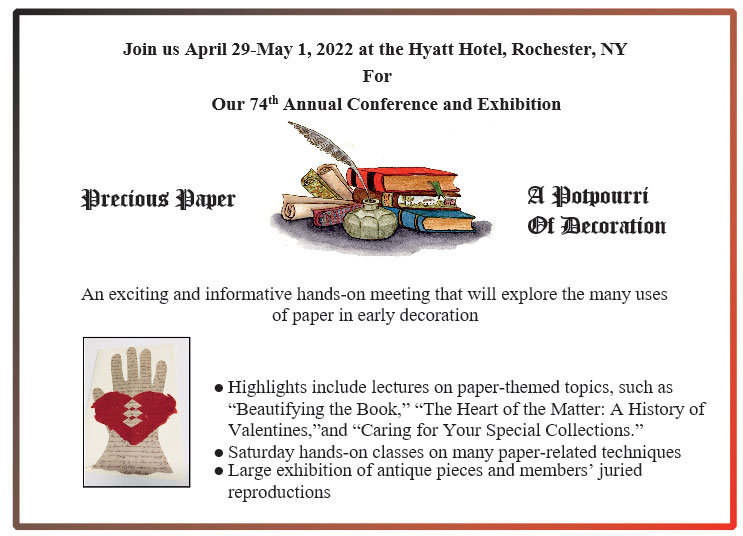 Genesee Country Chapter enthusiastically welcomes you to Rochester, NY for an interesting meeting on many uses of paper in the decorative arts!
Friday Evening Banquet
Dr. Steven Galbraith, Curator of the Cary Graphic Arts Collection at the Rochester Institute of Technology, is our headline speaker at the Friday Banquet. Dr. Galbraith is the author of "Edges of Books" which examines paintings and decoration on an often unsuspected surface of the book. His topic Beautifying the Book will guide us through a history of ornamentation that has been found not only on edges but also on covers, spines, and inside books. We will hear about early manuscripts and illumination, gilding and gold leaf on covers and spines, marbling on end papers and edges, hand colored illustration as well as fore-edge paintings and more. Dr. Galbraith will bring some artifacts from the Cary Graphic Arts Collection to supplement his power point presentation.
Saturday Hands-On Programs
Saturday's program of hands on workshops will give you the opportunity to try your hand at some paper related art. There are six workshops offered in the morning and six in the afternoon. When you receive your registration packet you will indicate your preference for a class in each session. Turkish Paper Marbling, Quilling or Paper Filigree, Exploration of Paper and Book Binding, Letterpress Calling Card and Victorian Valentines, Altered Books and Paper Curiosities, Painted Fraktur Bookplate, and Memory Box of Marbled Paper are the workshops that are lined up.
Class sizes are limited so be sure to register early to get into your top choices!
Sunday Brunch Program
At the Sunday brunch meeting we will be treated to a fun and nostalgic power point talk by Christopher Bensch, Vice President of Collections at the Strong National Museum of Play. He will delight us with The Heart of the Matter: A History of Valentine Cards which will draw from the many Valentines in the museum's collection. In addition, he will bring samples of those tokens of affection that have expressed loving sentiments over the last few centuries. This is sure to be an enchanting conclusion to our meeting.
And don't forget the raffle in Exhibition! This year we are fortunate to have some exceptional artwork that you might be lucky enough to win! The centerpieces at the banquets are beautiful and we have some fun methods for deciding who will take your table's masterpiece home!
We look forward to welcoming you to Rochester and are proud to highlight local artists and museum collections that are home to our area! The 2022 Annual Meeting and Exhibition will prove to be a wonderful time of learning new things and expanding your horizons.
See you in Rochester, New York, April 29 to May 1, 2022!
Pat Olson and Martha Dolan, Meeting Co-Chairmen
---
Reserve your rooms directly with the Hyatt Regency in Rochester.
It is also posted in a document labeled "Spring 2022 Rochester Registration" under the Member Resources after you sign in. If you prefer to reserve by phone, call 877-803-7534. The Group code for call-in registration is G-HSE1. The Group code is embedded in the link for those people who book online.
People who are rooming together should designate one person to make room reservations to avoid double booking.