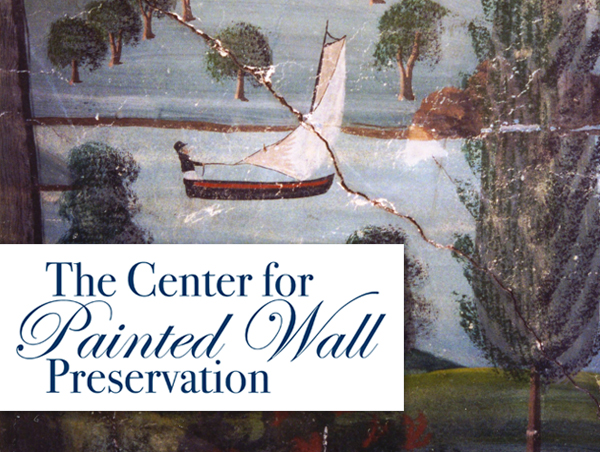 Conserving Our Painted Past: Symposium To Set the Standard for the Field of Painted Wall Conservation—April 3-5 in South Portland, Maine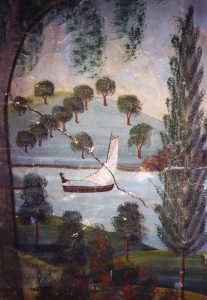 Water damage. Wallpaper. The wrecking ball. Paint-decorated plaster walls are vulnerable to many threats. But with the right tools and techniques, they can be saved. The Center for Painted Wall Preservation saves these cultural treasures from various dangers, from the dumpster to the destructive "fresh coat of paint."
To help others save and protect paint-decorated plaster walls, the Center for Painted Wall Preservation is planning a Symposium for April 3-5, 2020 in South Portland, ME. The first event of its kind, this Symposium will bring together practitioners in the care and conservation of painted walls to share case studies and discuss best practices. The preservation of early-19th-century painted decoration — which include murals, freehand brushwork, and stenciled decoration— becomes increasingly urgent over time, especially for walls in private homes.
There currently are no conservation standards or 'best practices' to guide the care of painted walls and many techniques used over the years have resulted in disaster! The "Conserving Our Painted Past" Symposium will provide homeowners and conservators with reliable and responsible approaches to preserving extant wall decoration for the enrichment of future generations. A great lineup of prominent conservators, researchers, homeowners, and tradespeople will fascinate you as an extensive variety of different topics are explored and discussed.
Come learn about how new processes of thermal imaging technology help with wallpaper removal. See how professional conservators inpaint to fix paint loss or lay down flaking paint. Hear how stabilizing the building helps protect the walls and see how, as a last resort, the walls can be stabilized, removed, and installed in new homes.
Join us at the "Conserving the Painted Past" Symposium on April 3-5, 2020 in South Portland, Maine. HSEAD is one of the underwriters of this event and will be listed in the program.
Symposium online registration opens January 1, 2020. For more information on the Symposium, please see our website: www.pwpcenter.org/symposium
Please contact us with interest or questions at info@pwpcenter.org