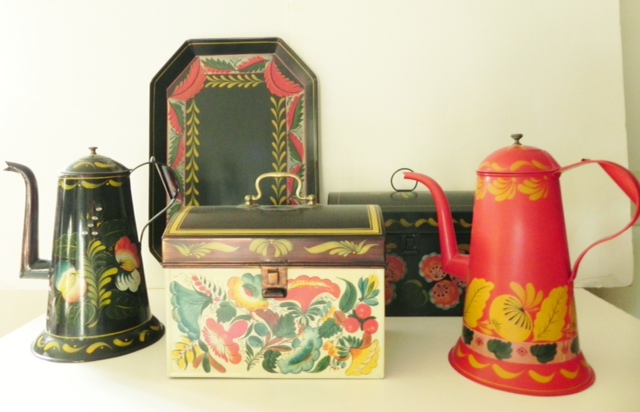 Country Painting
American country painting is a style of brush stroke painting which utilizes oil paints as the medium and was originally found on American tin of the 18th and 19th centuries. The brush stroke patterns are found on furniture, wood and tin. Oftentimes, country painting is confused and referred to as tole painting. Tôle is the French word for sheet iron. Tôle Peinte is the French word for painted sheet iron. The American modern day version of "tole" is the style of brush stroke painting which uses acrylic paint as the medium.
The tinware industry was started in this country before the American Revolution. We currently connect American Country Painting with eight known tin shops. We refer to them by the name of the family who operated each particular shop. The eight shops are: Connecticut Filley (Bloomfield, CT), New York Filley (Lansingburg, NY), Pennsylvania Filley (Philadelphia, PA), Butler (Greenville, NY), Cowles/Upson (Marion, CT), North (Fly Creek, NY), Buckley (Stevens Plains, ME) and Stevens (Stevens Plains, ME).
The Maine shops painted yellow and green leaves, blue flowers, intricate borders, heart shaped "lily pad" leaves, salmon or peach base coats, double cherries, curlicues  with tiny strokes within the loop, geometric cross-hatching (particularly in flower centers), white and yellow backgrounds, flat topped boxes, and worked wet on wet.
The New York shops were noted for red stems and berries, bulbous flowers, white veins in leaves, elongated tulips, circles of tiny dots, 6 or 8 point stars, ric-rac, asphalt background grained with black, red and white bands, often superimposed with yellow, red, and green brushstrokes.
Connecticut shops were noted for finely made tin with brush strokes in characteristic groupings, many white bands, much use of semitransparent green, fine black veins in leaves, and geometric patterns.
Pennsylvania shops are identified by crystallized floors, brown, blue and (other atypical colors), asphaltum and red grounds, thumb print work, and white bands.