FOLK ART SCHOOL FALL WORKSHOP MEETING
Thursday, September 21 - Sunday, September 24, 2023
Wyndham Southbury
1284 Strongtown Rd
Southbury, Connecticut
Classrooms open for Set Up
Classrooms will be open from 7:00 to 9:00PM, however, the teacher may not be present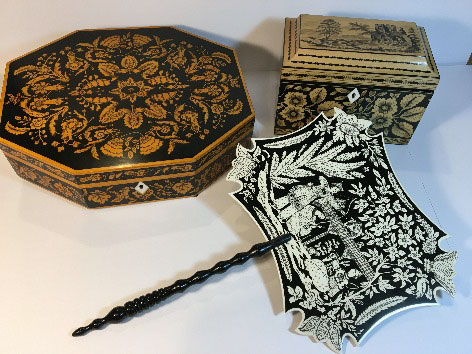 Penwork (Class is Filled)
Join me for an in-depth exploration of the various Penwork techniques as you work on a piece suitable for submission for award. You will learn the mechanics of the pens which will help you successfully create beautiful penwork. We will cover preparation of the wood surface, how to achieve beautiful backgrounds, brushed ink scenes and shading, details, colored ink, polychrome and more. You will learn the problems that may pop up and how to fix them. I have a variety of tea caddies, face screens, and workboxes that you may purchase or you may bring your own piece. I have an assortment of patterns available for you to choose from that work with the woodenware that I have. The class will be fun and relaxed, but packed with information and instruction to help you create a Penwork work of art! No advance prep necessary-we'll cover it all in class. You will NOT be able to finish a piece in this short workshop, but I will give you all the tools you need to successfully complete your beautiful project at home.
Lab fee $10. Contact teacher if you need to purchase a piece to work on. Face screen with handle $35 each. Work box $45-$150. Tea caddy-$100-$150. These items available to class students only due to limited supply.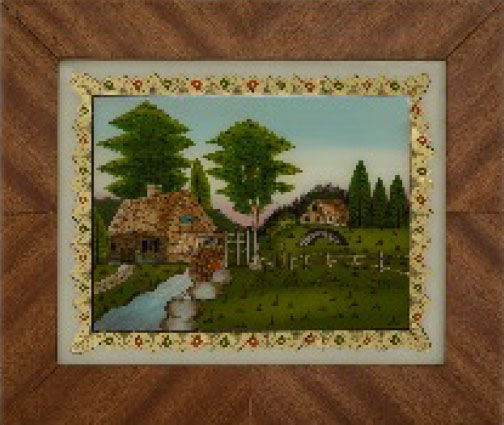 This class will be for all levels of glass painters. If you are a beginner, we will work from a kit that I will provide.
If you have worked with me before and have glasses you need to finish, please bring them to work on. I will have all my glass with me for those who are looking for something new.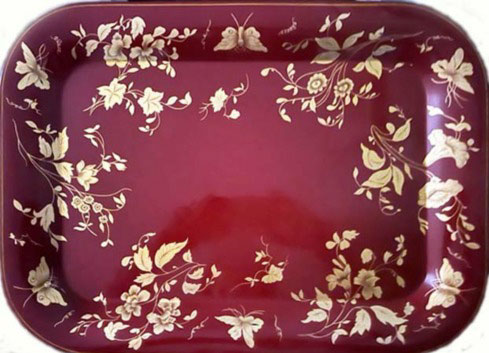 Gold Leaf (Metal Leaf) Class Basics of Oil Gilding and color shading (Class is Filled)
This class involves learning the techniques, materials and tools used in oil gilding and applying this information while working on a !8" x 13 ½" tin tray.
We will practice handling gold leaf, applying it to a painted design, cleaning the design, etching, burnishing and color shading.
The supply Fee is $30.00 and includes:
Prepared tin tray 18" x 13 ½" Design
Transfer paper
Magnesium carbonate
Vaseline
Swiffer
Extra rouge
Two etchers
You need to bring:
1 book of Gold Leaf, 23 Karat,( My choice is Best or Brambilla – Italian)
Gilders tip – 2 inch
Gilders pad
Gilders knife
Gilders mop or a very soft brush for removing loose gold leaf ( My choice is the Raphael "803" Petit Gris 3/0 for a mop.)
Dux quick dry Size (8 oz. or 4 oz.)
Other supplies:
Tracing paper
Ruler
Scissors
Technical pen
Piece of black board to practice
Pink pearl eraser Palette pad – unwaxed
Odorless mineral spirits
Brush cleaner
Paper towels
Cotton balls
Stylus
Burnt umber tube oil paint
Brushes – what you are comfortable using, square tips or rounds to paint base coat of design
Also scroller or liner for fine veins and lines
---
Note: A good source of gold Leaf supplies is Gilded Planet. (Gold Leaf supplies can be very costly)
Any questions, please reach out to me through info@hsead.org.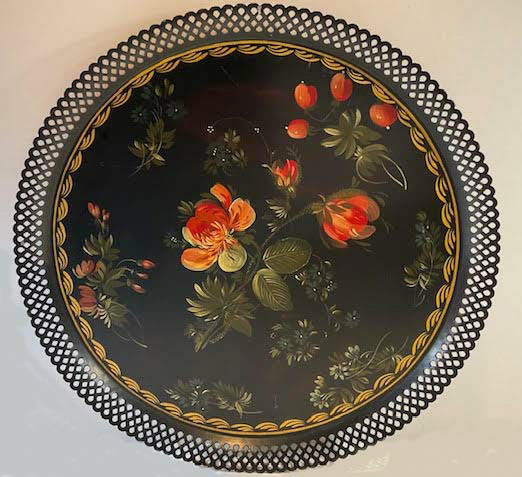 Pontypool (Class is Filled)
Come to Southbury and join a fun class exploring the history and painting techniques of our oldest discipline: PONTYPOOL. In this class you will learn how to paint the joyful sprays of fruits and flowers that dance around the central motif. We will all work on the same design which will give a good base and understanding of the technique.
Each student will be provided with a twelve inch tray pre-prepared with a tortoise shell base and a gold leaf stripe. Everyone will work on the same design, painted first on a black paper pattern and then on the tray. All of the above techniques will be demonstrated during the class.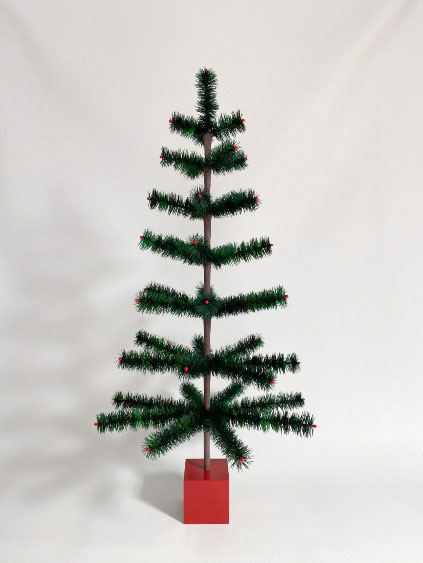 Join me for an immersive holiday workshop making German feather trees.
We will have Christmas music playing, and holiday scents in the room, all while learning about and making these lovely little trees. The trees will be 24" tall and your kit fee of $55 includes everything you need to complete it. The only tool you should bring is a pair of wire snippers.
After we complete our trees, we will paint or metal leaf the base depending on your preference. There will also be ornaments for sale during the workshop.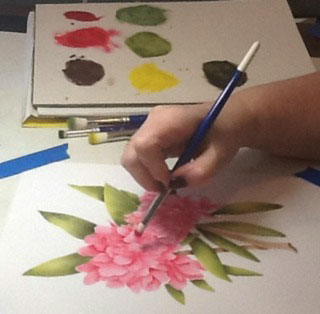 Theorem Painting, a Technique for Our Times
Jean Hansen will Introduce her time-tested, updated Theorem Techniques for this HSEAD meeting.The attendees will be able to choose the stencil of their choice from the nearly 300 available on Jean's updated mobile-friendly web site www.jeanhansen.com
Jean likes to customize her workshops for each individual. Once you have been confirmed for her class email her at jean@jeanhansen.com. She will help you navigate the site and assist you with your stencil choices.
Jean will be providing the paints used for this class. Since the early 80's, she has pioneered the use of Shiva Oil Stiks for Theorems, striving for a cleaner technique. She will have samples done on velveteen, muslin, osnaburg fabric, silk, raw and painted wood, unglazed bisque tiles, plus all the papers that are now available. Each of Jean's kits come with a Velour Board Surface which was originally intended for use as a "Proofing Surface". Students will need their own brushes. Everyone will receive a copy of Touch of Velvet II($9.95 value) and free heart shield.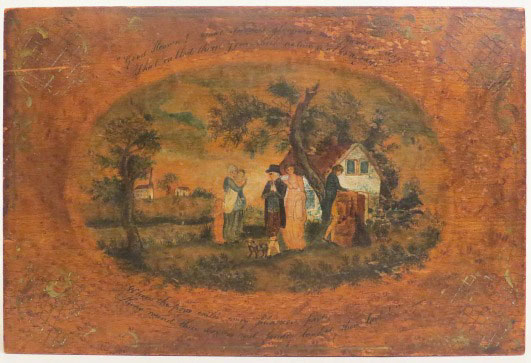 Women's Painted Furniture: UFOs and WPF Techniques (Class is Filled)
Have a box you want to finish? Want to know exactly how to paint Women's Painted Furniture?
Use Casein? Acrylic? Let's take a look at how you can create a personalized, endearing piece, of which you can be proud. The class will offer instruction on how to paint on wood as well as how to paint on paper, which is then used to cover a box. You will receive individual attention and learn specific techniques.
A supply list will be sent when you register.
If you need to purchase a box or table, I will need time to have the boxes made. Contact me at evemarschark@verizon.net no later than the end of June to order. Feel free to contact me at any time if you have questions. Let's have some fun!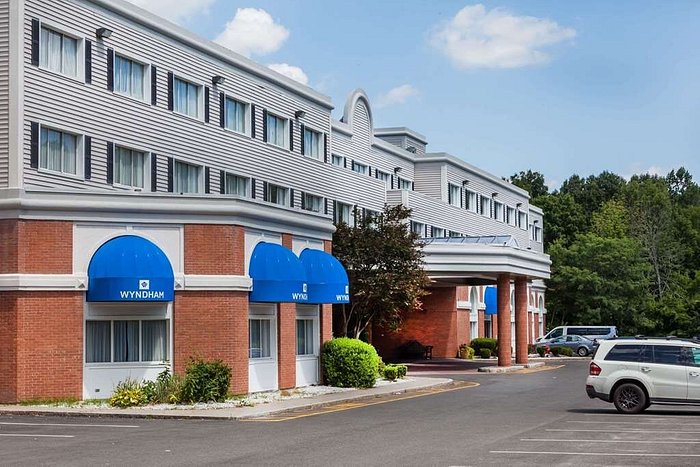 1284 Strongtown Rd.
Southbury, CT
Phone: (203) 598-7600
Single or double: $149
Triple: $159
Quadruple: $169
* Does not include taxes and fees.
Check-In: 3 pm
Check Out: 12 pm
Check in to your hotel room is at 3 pm. Students may set up their work space in their assigned classroom at pm. Classes run from 7 to 9 pm on Thursday evening; from 9 am to 4:30 pm on Friday and Saturday and from 9 am until noon on Sunday with 1 hr for lunch.
Hotel check out is noon.
Or call 203-653-8179. If you call in your reservation, make sure that you ask for the Historical Society of Early American Decoration Group rate. Avoid double booking by having a designated member of your party make the room reservations for everyone who will be residing in that room.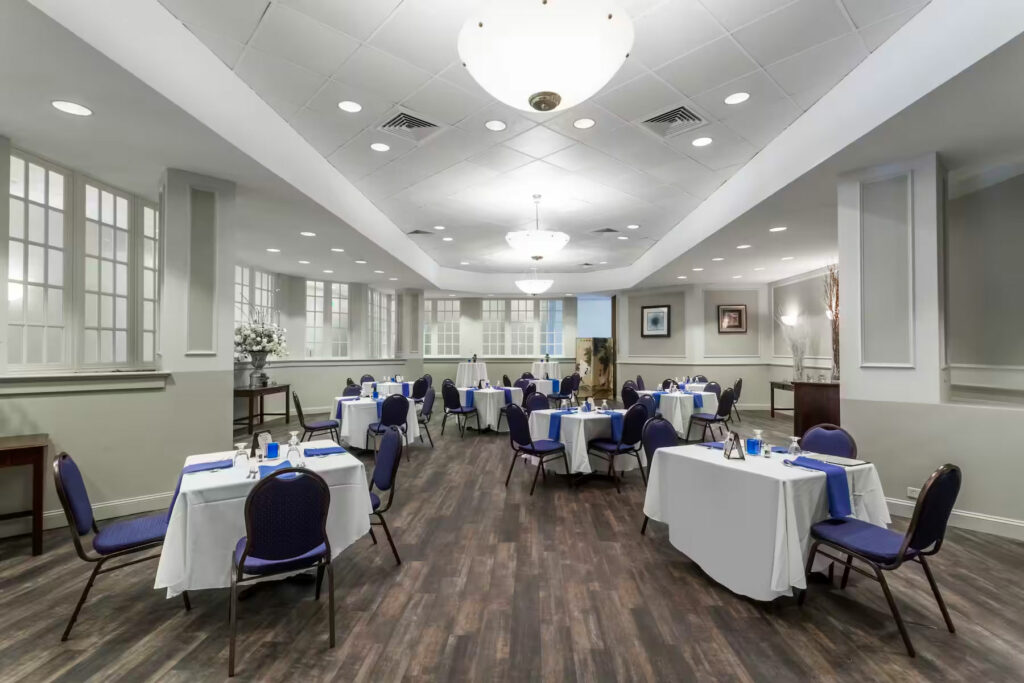 Except for the Saturday evening banquet, you're on your own for meals which can be taken at
at the hotel or nearby. Each room is equipped with a small refrigerator and a Keurig-type
coffee maker. You may rent a small microwave if needed.
The Saturday evening banquet is buffet style and will feature vegetarian selections, salads,
entrees, breads, desserts, and beverages. Please contact Polly Bartow at pollytb55@gmail.com for special meals requests.